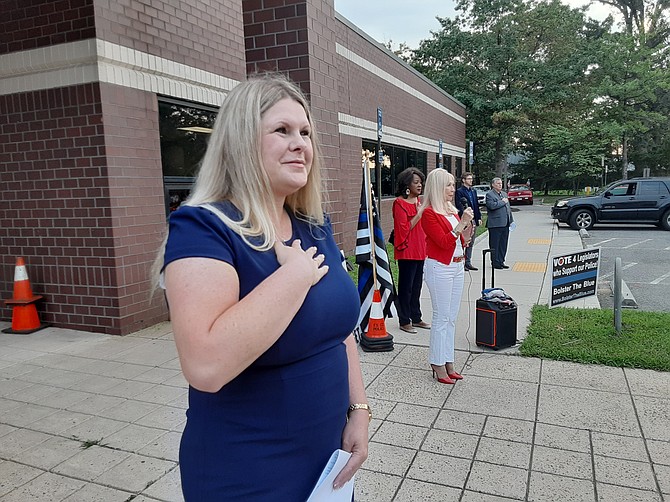 After seeing the police officers in this country treated poorly by the people they were sworn to protect, Brenda Tillet shifted gears and started a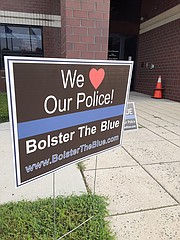 movement called "Bolster the Blue," to change that tide. Her efforts go against the chant of "defund the police," that was common to the demonstrations that have rocked the nation this summer.
"Those protests started the disrespect of our police officers," she said, before a Bolster the Blue rally in the parking lot at the Franconia Police Station in Fairfax County. She calls her gatherings "Flash Mob Fridays" events, although most of the mob consisted of area residents that seemed to lean on the republican side, and there were not many teens present. "Our primary purpose is to get people engaged in legislation," she said, and she targeted HB 5013, a bill that was recently killed in legislation. That bill would have made it easier to sue police officers.
"You affected change," she told her supporters, "this is a very bipartisan issue," she said. There were signs of Trump supporters in the group but Tillet said she has invited democrats to be speakers also.
There were several speakers at the Flash Mob Friday event that seemed to point the finger at Virginia's elected officials on all levels. "The police had the politicians turn their back on them," said Steve Knotts, another speaker that was in from his residence in Chantilly. "We have to stand up for what's right, not let the mob rule," he said.
Sean Rastatter, Vice Chair, Fairfax County Republican Committee, lives in Centreville and grew up in a family of Fairfax County Police Officers. He called the current Virginia House and Senate officials "radical Richmondites," adding that the defund directive can go the other way too. "I say defund the politicians that use the police as scapegoats," he said. One member in the audience had a "Defend the Police," t-shirt on, and others waved American flags.
With the backdrop of the 19th anniversary of the 9/11 terrorist strikes, the event was dedicated to Christoper Amoroso, a police officer who was killed at the World Trade Center. The speakers stressed the message that Amoroso gave his life saving victims that he didn't even know. That's what police do, they said.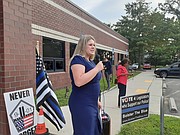 Bolster the Blue
Tillet is a Fairfax resident that founded Bolster the Blue several months ago to "increase community awareness about anti-law enforcement legislation which destroys our officers and abolishes safety in our homes and communities," her description on the website read.
Beginning in September and continuing into the fall, there are several Flash Mob Fridays scheduled at various spots in the county. The first one was in the City of Fairfax on Friday, Sept. 4, and next week, September 18, it will be at the Sully District Station, followed by Mason District, Reston, West Springfield, Fair Oaks and McLean.
In addition to a website, Tillet uses Facebook to communicate with her followers and advertise upcoming legislative events. For the upcoming Fairfax County Board of Supervisors meeting on Sept. 29, "we have secured all 10 public comments at the Fairfax County Board of Supervisors meeting to address every aspect of inequality and unfair legislation affecting our LEOs and our communities on a local and state level and to demand action by our Board of Supervisors members," she wrote in an email. She declared to never stop fighting or put her armor down.